PlatformLogix
Find out how Westwood can help you
PlatformLogix covers global fixed and floating production facilities with data on 8,800+ units. Explore the installed base of both fixed and floating platforms or track the current and future deployments.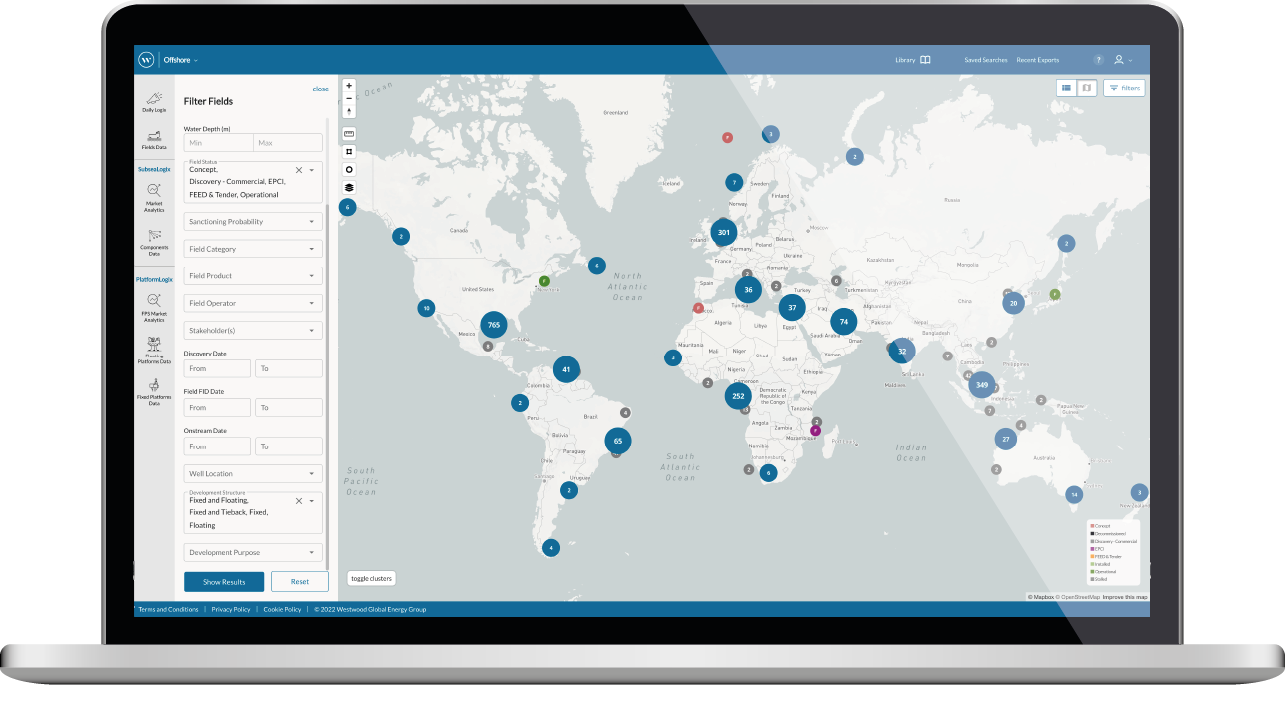 Why PlatformLogix?
$115bn
FPS contract value to be awarded 2022-2026
83
FPS contracts to be awarded 2022-2026
267
Currently active FPSs with detailed specifications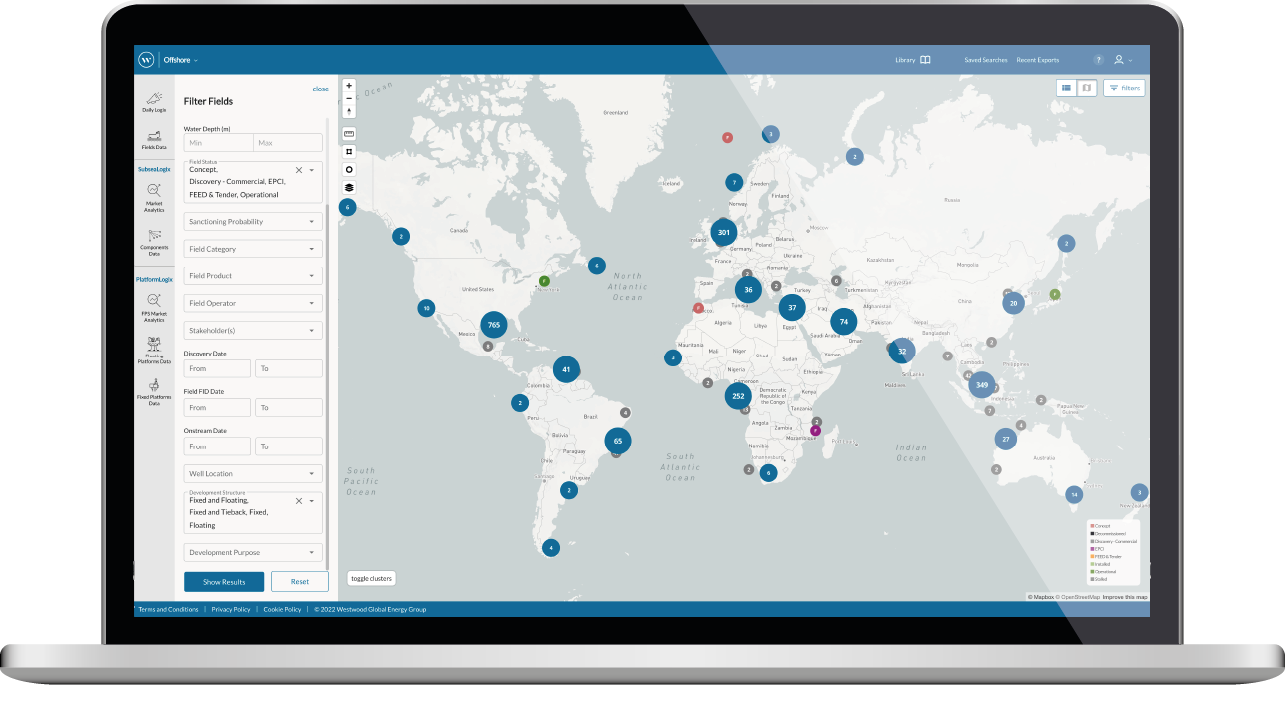 Business Development
Current and future field data
A real-time online data and analytics platform covering global offshore field developments.
PlatformLogix provides data on floating and fixed production facilities' contracts around the world, including floating LNG platforms. We cover shipyards, orders and contracting activity, to help offshore engineering, procurement and construction (EPC) firms build viable opportunity pipelines.
Fixed platform search
Our fast, intuitive and comprehensive database and application allows for multiple combinations of search criteria to deliver you only the most relevant results.
From a current database of just under 7,000 units, identifying fixed platform units by name, type, project hub or even manned, unmanned and GIS distance to shore takes just a few seconds.
Floating platform search
PlatformLogix currently hosts data on over 500 floating platforms around the globe, covering FPSS, FPSO, FSRU, TLP, Spar and LNG FPSOs.
Users can interrogate the data in tabular format or visualise the global distribution of floating units using the mapping functions, including the layering of oil and gas blocks and distance measures.
Key Features
Fixed and floating unit profiles
Platform profiles aggregate a range of data and intelligence on individual units, such as:
DailyLogix newsflow
Mapping visualisation
Additional platform specifications
Key principal contractor details
Downloadable timeline
Technical and operational specifications
Timeline of key events
Interactive mapping
Platform locations and mapping
Platform status
Dynamic filters
Area/radius selection tool
Custom data reports and exports
Oil and gas blocks
Heliports
Market Intelligence
FPS market analytics
Highly intuitive custom dashboards, units and expenditure forecasts, country-by-country data, operator activity levels, DailyLogix newsflow and downloadable charts.
Analytics dashboards offer regional views by:
Volume of units by field FID year
Volume of units by contract award year
Volume of units by installation year
Spend by field FID year
Spend by contract award year
Spend by installation year
Quarterly reports
Each quarter, PlatformLogix subscribers receive the Floating Production Systems Market Report, produced by Westwood's team of analysts.
The report looks at key macro fundamentals impacting global floating production systems demand as well as a dive into FPS leasing contractors for quarterly revenues, market shares and fleet availability. Also included:
FPS order intake and leasing activities
FPS construction and delivery tracker
FPS regional analysis highlighting additional throughput capacity per country, cost per throughput analysis, active tenders and future opportunities
Market overview of FSRU demand, active tenders and future opportunities
FPS EPC tender tracker with commentaries
Weekly newsletters
Each week, our team of analysts provide a comprehensive review of the latest offshore field developments delivered via email and the DailyLogix service.
In addition to market activity summary, the news covers potential contracts and tenders, trends and indicators, FID announcements, drilling activities, field start-ups, financing and business news, contract announcements and decommissioning.
Market forecasts
Track global platform engineering, procurement and construction (EPC) contract award on a unit-by-unit basis, with a detailed understanding of FPSO contract model, fabrication timeline and associated shipyard. PlatformLogix also provides historical data, helping clients understand working relationships between E&Ps, FPS leasing contractors and shipyards. The proportion of leased and owned FPSOs in the installed base, FPSO charter duration and optional extensions.
Shipyards
Global coverage of the installed base of floating production systems, FLNG and major fixed platforms as well as future prospects.
Vessel owners
Gain global coverage of the installed base and future prospects of floating production systems, FLNG and major fixed platforms.
EPC contractors
Identify regional hotspots and which E&Ps will be investing in new offshore facilities over the next five- years.
Financial sector
Track recent contract awards and market share to benchmark a range of subsea related peer group.
E&P companies
Understand the global offshore oil and gas market in detail and evaluate project timings over a five-year time frame.
Service Providers
Access to global distribution of platform installed base, with information on platform owner and operator, platform functionality and platform age.
Request a demo
Slick interface - it's great to be able to delve down into the quality data.
Offshore Market Analyst
Oilfield Service Company
Our PlatformLogix
specialists