RigLogix
Find out how Westwood can help you
The leading source of commercial offshore rig data & intelligence, trusted by leading E&P companies, rig contractors, OFS companies and financial sector advisors worldwide.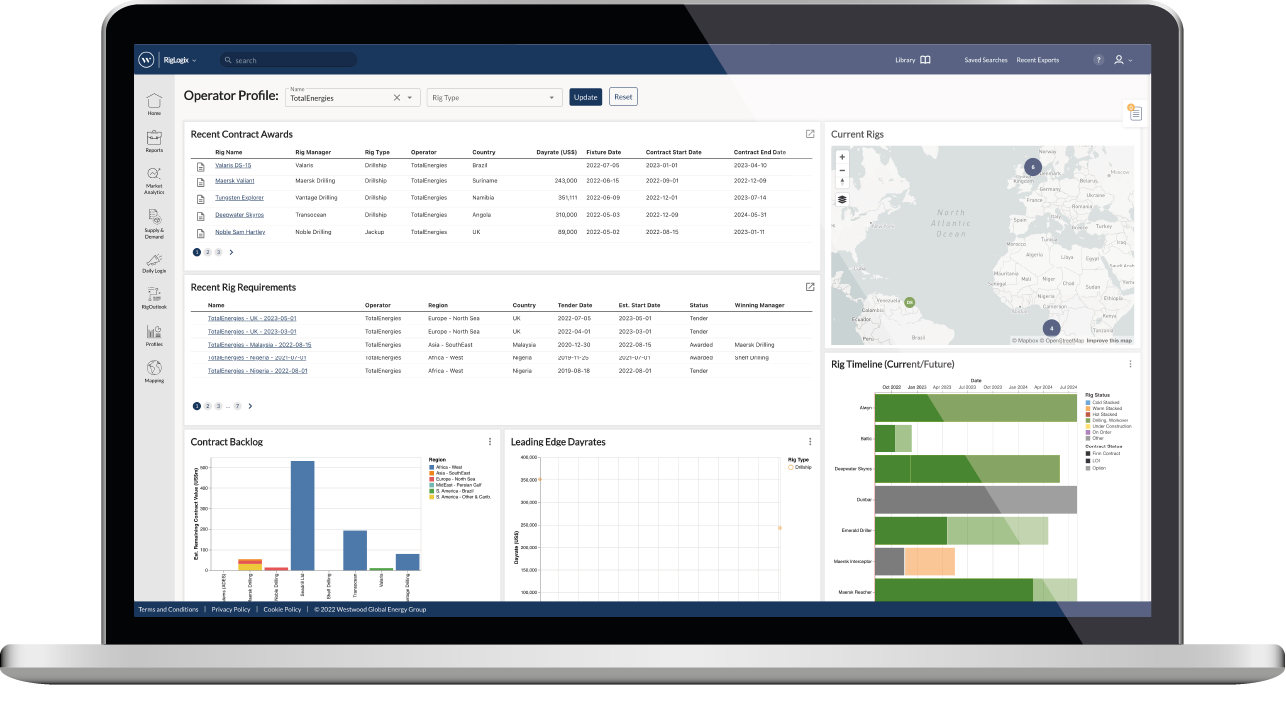 Why RigLogix?
2004
More than 18 years of coverage and expertise
1000+
New dayrates recorded in RigLogix over the last five years
1500+
Offshore rigs covered, including jackups, drillships, semi-submersibles, tender-assist, barges and platform-based units
5
Five-year look ahead with offshore supply, demand, utilisation and dayrate forecasts
Latest Updates
Supply & Demand Scenarios
Use the supply and demand scenarios to filter requirements using dates, rig types, locations, categories and private requirements.
Filter rigs by availability and delivery dates, locations, status, categories, managers and a wealth of design specifications and rig equipment. View and sort using interactive gantt charts and export options.
Private Requirements
Create your own rig requirement with over a dozen data selection options or free text entry points, such as preferred rig types, tender dates, programme and requirement descriptions, number of firm wells and expected start date. Save and share your requirements with colleagues.
Custom Notes
Custom Notes brings further knowledge sharing and collaborative functions to RigLogix. Create private notes (only viewable to your company) attached to specific rigs, operators, drillers, contracts or requirements.
Key feature
Drilling Contractors
Use RigLogix to make informed strategic and commercial decisions about rig-contract negotiations, benchmark performance against peers and identify upcoming contract opportunities.
Interactive gantt charts allow for specific label management and filtering by a range of options such as rig types, countries, fixture and contract dates.
Exploration & Production
RigLogix offers the most complete coverage of dayrates worldwide, allowing clients to make informed procurement decisions as well as identifying available rigs and benchmarking rig contracting performance against their peers.
22,000
The number of contracts with detailed information in RigLogix
1000+
The number of new dayrates recorded in RigLogix over the last five years
Financial Houses
The most complete coverage of dayrates available in any rig product. Get detailed commercial insight on rig contracts and use unique forecasting tools to see a forward view of activity.
The RigLogix home page shows a wealth of information such as recent rig requirements, leading edge dayrates, recent contract awards, utilisation and the latest DailyLogix news.
OEMs
Understand rig commitments, locations, contract schedules and SPS dates, and view upcoming rig requirements as well as forecasts of future activity.
14
The number of filter options available on rig requirement searches
2000+
The number of current requirements available within RigLogix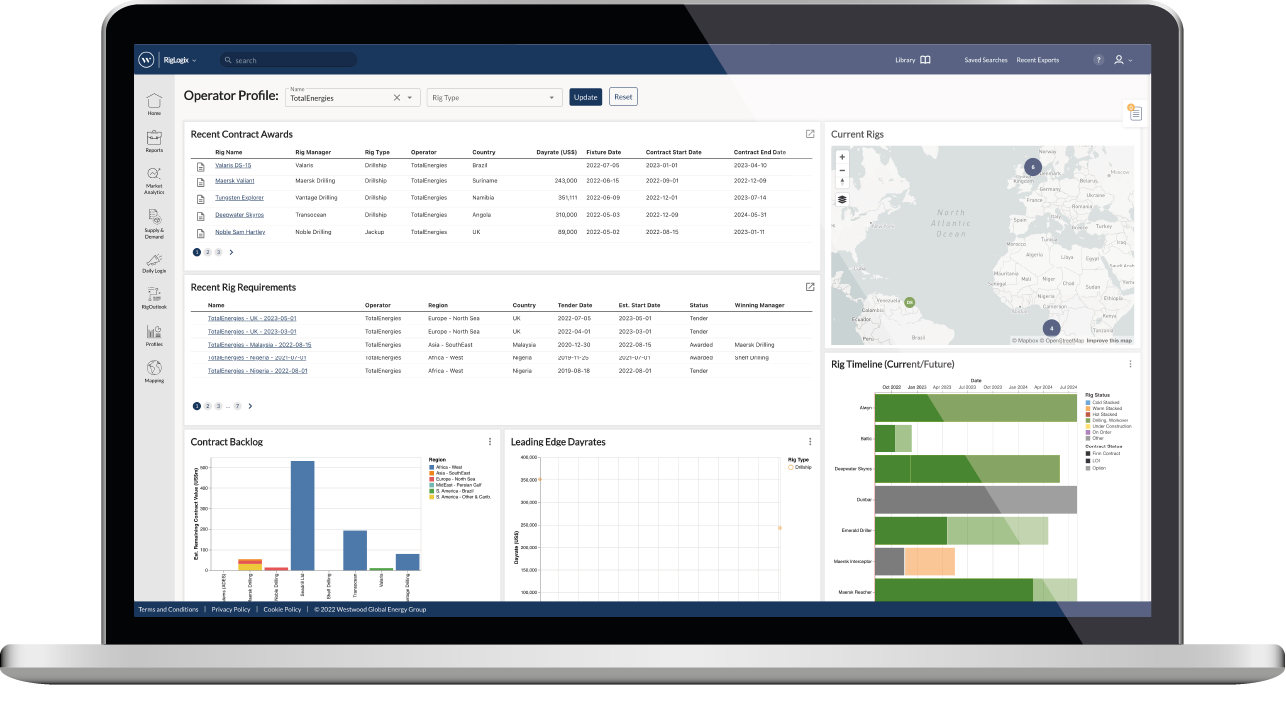 More Key Features
Utilisation & Dayrates
Monthly data available for jackups, semi-submersibles and drillships from the year 2000, ability to customise numbers based on multiple search criteria, working, contracted and committed rig splits available.
Profiles
Choose from operator, drilling contractor or region, current and future contract timeline and recent contract awards, current rig locations mapped and gantt charts.
Operator profiles contain a range of detailed information including contract backlogs, leading edge dayrates, current and future rig timelines and summaries of active operations.
DailyLogix Updates
New contract signings, new rig requirements, planned and current rig moves, market trends and indicators, drilling contractor earnings andrig schedule updates.
Mapping
Interactive mapping features allow for visual searches, radius, measures, layers and rig legends, with toggle to data
Competitive Edge
Stay ahead of the competition with real-time data on utilisation, dayrates and backlogs, alongside detailed quarterly market reports
Benchmarking
Benchmark technical specifications of the global fleet of 1,150+ offshore rigs to shortlist for upcoming campaigns.
Rig Availability
Understand current and upcoming rig availability: which assets are working nearby, at what rates and when they come off contract
Contract Backlogs
Benchmark drilling contractor performance based on current contract KPIs such as dayrates, utilisation and backlog
Market Share
Analyse market share of drilling contractors, OEMs and shipyards across various geographies and rig types
Activity Forecast
Make dynamic forecasts of rig supply and demand outlooks with projections for day rates and attrition.
Latest News
Stay current with daily updated information on upcoming rig requirements, potential rate guidance and likely competition worldwide
Request a demo
RigLogix is our primary source for market intelligence with its reliable and timely data – it supports our offshore rig sourcing and contracting activities around the globe.
Senior Advisor for Market Intelligence
Major Oil and Gas Corporation