For immediate release
(Houston, USA) – Friday, 19th October 2018 – The Permian bottleneck and differentials* are impacting the frac crew count and well completion numbers, according to Westwood Global Energy Group's (Westwood) SatScout service.  The service from Westwood generates pad construction, drilling rig on location, and frac crew on pad data for the Permian through proprietary, machine learning based analysis of daily satellite imagery.
In September, the number of observed well completions decreased 6% to 472 wells compared to 502 in the previous month and 510 wells completed during the peak month of June 2018.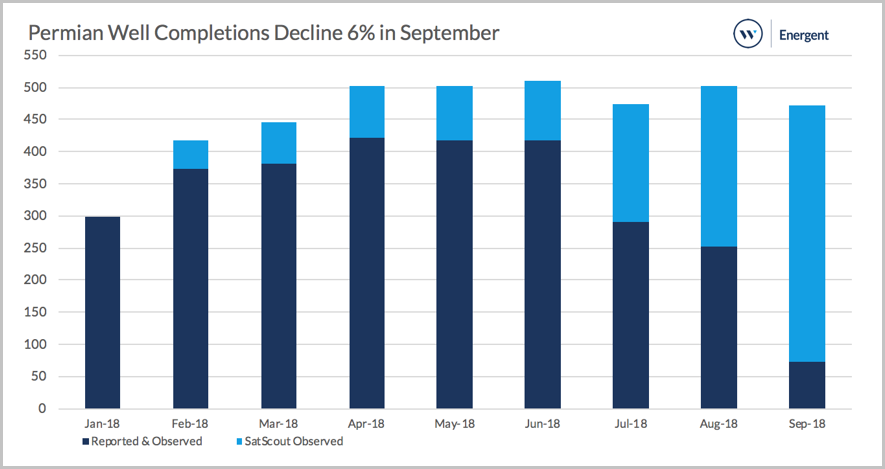 In the above figure, "Reported & Observed" represents confirmation of regulatory filings and SatScout observed completion activity. The "SatScout Observed" indicate visual confirmation of a frac crew on a single-well or multi-well pad but not yet reported.
This decrease in activity equates to a loss of 185,000 tons of frac sand demand for the month and a decline in 375 million gallons of water demand for September fracturing jobs.
"The Delaware and Midland Basins are paramount to the US shale story," said Boyd Skelton, Vice President of Operations for Westwood Global Energy Group.  He added; "The public and private E&Ps we monitor are feeling the constraints in the Permian market.  You can see the softening demand for horsepower, frac sand, and water based on the decline in last month's observed completions.  The market is fluid with operators acting swiftly to changing conditions."
The top 15 most active Permian operators by number of wells completed in 2018 include 13 public and 2 private operators.  In September, the top 15 operators accounted for 46% of all activity and declined by 8% from the previous month. One operator's well completion activity more than halved.
Using daily satellite imagery, machine learning, and the Westwood team of analysts, SatScout can identify when an operator has constructed a pad, rigged up for drilling, or started fracturing the well with a frac crew.  Critically, SatScout provides notifications of activity for public and private oil and gas operators before the information is reported in quarterly earnings, investor presentations, or via state regulatory organizations.
Westwood's daily monitoring of the Permian Basin provides visibility into the number of frac spreads, well completions, and operator activity for the world's most prolific oil growth region.  Visit http://energentgroup.com/satscout-proprietary-well-completions-data
– Ends –
Issued on behalf of Westwood Global Energy Group by Flourish PR Ltd
For all media enquiries or to arrange an interview please contact: –
Flourish PR Press Office
Flourish PR Ltd
Tel: +44 (0)1628 882 610
Email: [email protected]
Notes to Editors
* Limitations to the Permian Basin production takeaway capacity are causing a bottleneck in the Permian i.e. production can only continue to grow as long as the infrastructure is there to support it. Differentials refers to the discount between WTI and Brent which has surged to over $10 a barrel since July 2018.
About Westwood Global Energy Group (Westwood)
Westwood Global Energy Group is a leading provider of research, data analytics and consulting services to the global energy industry. Whilst we focus primarily on intelligence and insight for the worldwide exploration and oilfield services markets, our coverage also extends to the offshore renewables and power generation markets. Our analysis is independent, comprehensive and based on deep sector knowledge.
Westwood Global Energy was formed in January 2015 by Energy Ventures, an energy specialist private equity firm with a vision to build a leading player in the business intelligence and data analytics space.  Following an active period of acquisitions, the group has combined the operations of Hannon Westwood, Richmond Energy Partners, Novas Consulting, Douglas-Westwood, Energent Group, RigLogix, and JSI Services. Westwood Global Energy Group is headquartered in Aberdeen and has offices in London, Houston and Singapore.
To learn more, please visit www.westwoodenergy.com
About Energent
Energent Group is a market research firm focused on well life-cycle & frac market intelligence—how much sand operators use, who's pumping, what they're pumping. We help sales & marketing teams commercialize new products, work with up-to-date operator data, & track well completions in top U.S. shale plays. Energent became part of Westwood Global Energy Group in April 2017.